AMA
Atmis fetes outgoing staff officers for advancing mission objectives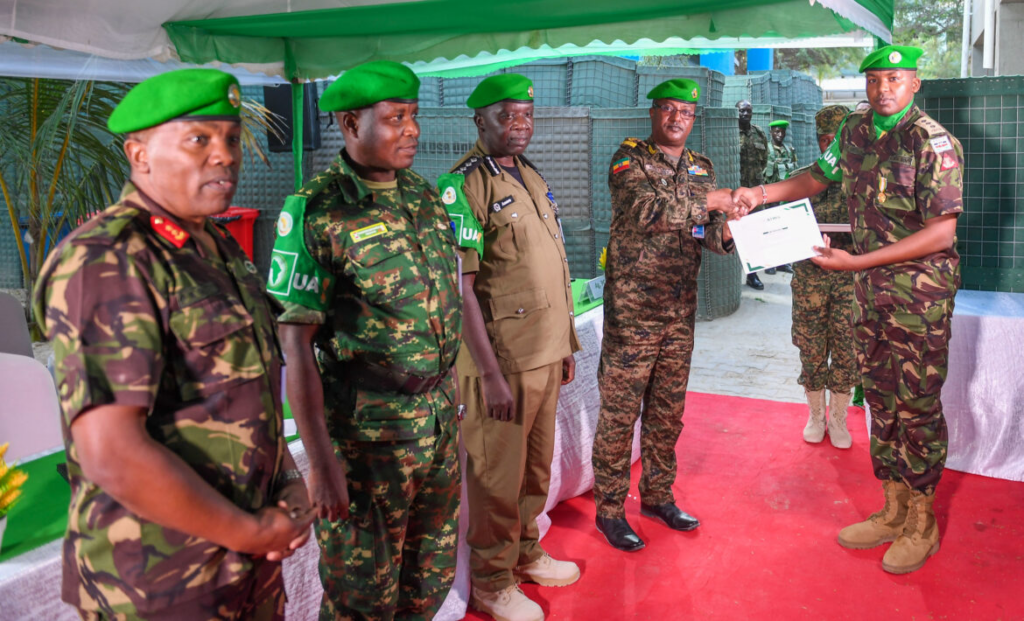 MOGADISHU, Somalia,14 August 2023 -/African Media Agency(AMA)/- Eighteen senior staff officers serving at the African Union Transition Mission in Somalia (ATMIS), were on Thursday decorated with African Union medals for their distinguished service to the peacekeeping mission.
The officers who have completed their one-year tour of duty, were awarded AU medals of honour, pins of gallantry and certificates of appreciation for their service in various capacities including operations, logistics, medical and information among others.
"I take this opportunity to congratulate you for your efforts in restoring peace and stability in Somalia and the horn of Africa region as a whole. Your contribution to this mission is highly appreciated," said Maj. Gen. Marius Ngendabanka, the ATMIS Deputy Force Commander in charge of Operations and Plans.
Maj.Gen. Ngendabanka who represented the AU Special Representative for Somalia, Ambassador Mohamed El- Amine Souef and ATMIS Force Commander Lt. Gen. Sam Okiding thanked the officers for their exceptional contribution to peace and stability in Somalia.
The event held at the ATMIS Force Headquarters in Mogadishu, was also attended by ATMIS Deputy Force Commander, Logistics and Support Maj. Gen. Peter Kimani Muteti.
"It is not the duration you were here that matters but the contributions you rendered to the mission and of course towards achieving the mandate of ATMIS. I want to congratulate you for the respective roles you played," Maj. Gen. Muteti told the staff officers.
Twelve of the officers feted hail from Kenya. The other six officers come from Benin, Nigeria, Uganda, and Zimbabwe.
"We have done our best and we have given a lot. We are pleased to honourably pass on the button to our successors to make the African Union dream a reality and accomplish the ATMIS mandate," said ATMIS Force Spokesperson Lt. Col. Abdullahi Ganale, who spoke on behalf of the outgoing staff officers.
Among other notable achievements, the outgoing officers were instrumental in the operational success of the mission in the fight against Al-Shabaab and the successful drawdown of 2000 ATMIS troops and handover of six Forward Operating Bases to the Somali National Army in June.
Other senior ATMIS officers who attended the event include, ATMIS military Chief of Staff Brig. Gen. Tegegn Kindu Gezu, ATMIS Police Deputy Commissioner CP Martin Amoru, and Civilian Chief of staff Kojo Brew Acquaisie.
Distributed by African Media Agency (AMA) on behalf of AMISOM.
Source : African Media Agency (AMA)