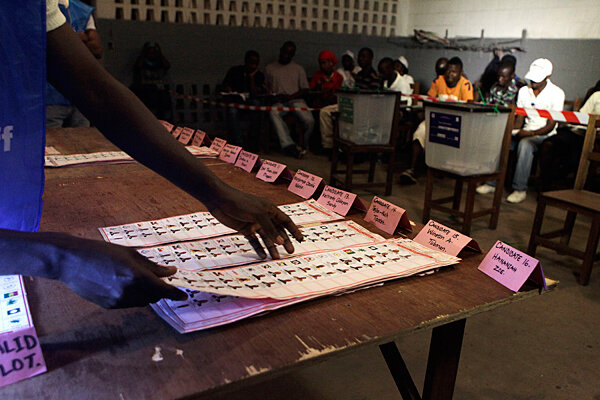 The Elections Coordinating Commission (ECC) a local observation group, is raising red flag on Tuesday's 10 October Presidential and Representatives Elections, citing serious administrative and technical lapses.
---
Chairman Oscar Bloh at a news conference on Thursday, October 12, in Monrovia explains that ECC observers observed inconsistence in how National Elections Commission staffs addressed the issue of voters' names missing from the Final Registration Roll.
"In 75 percent of observed polling places with missing names, these voters were permitted to vote; however, voters in 25 percent of these polling places were denied the ability to vote," he says.
Bloh continues that ECC observes that some polling places did not have adequate lights, which causes additional delays in the counting process and increases the potential for human error, and notes that the record of the counted forms were not systematically posted on the wall of the polling places after the completion of the counting process.
According to him, while voting process within the polling place generally ran smoothly, ECC observes that NEC staffs experienced challenges in managing queues and directing voters to the proper polling places.
"Particularity in areas with higher numbers of registered voters and in voting precincts located in facilities not adequate to accommodate these, this resulted in long waits and frustrations among voters and caused voting and counting to extend long past the official closing time."
Meanwhile, the ECC is recommending to the National Elections Commission to urgently inform the public and political parties on the procedures for voters whose names are missing from the final registration roll in order to ratify any challenge.
"Polling staff should also receive timely, clear, and consistent instruction in these procedures. Update logistics plans to ensure a timely delivery of all elections materials. Ensure voters are informed about the runoff elections. Consider relocating congested polling precincts to other locations that will facilitate the free flow of voters," Mr. Bloh stresses.
By E. J. Nathaniel Daygbor-Editing by Jonathan Browne