AMA
Ethiopian Delegation to AFSIC – Investing in Africa 2023 Ethiopia – "The New Frontier Market, Opening Doors and Creating Opportunities"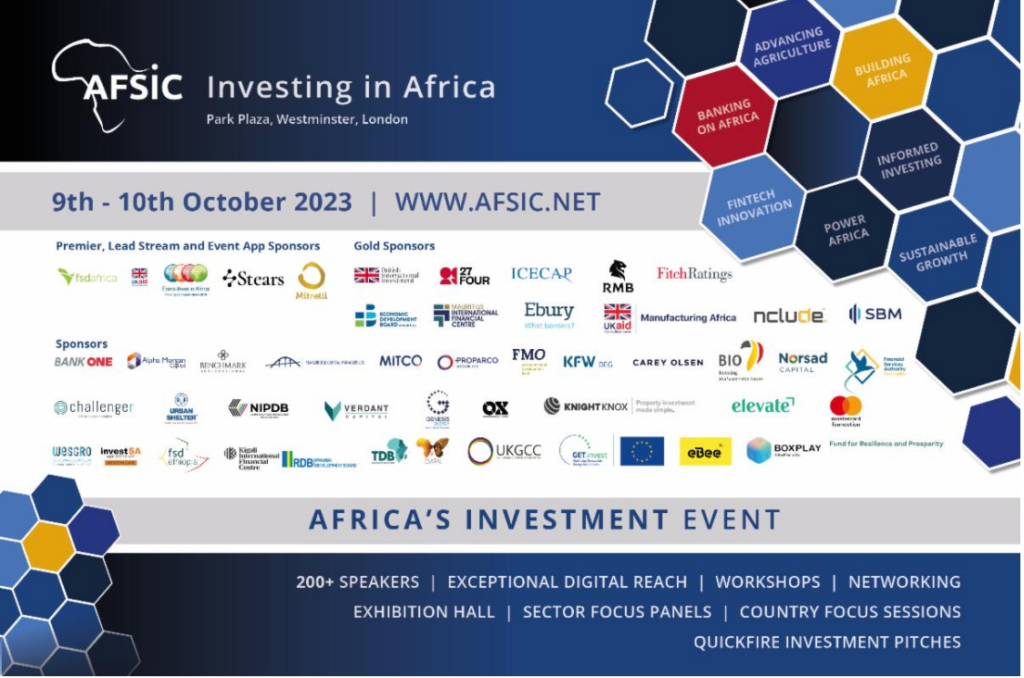 LONDON, United Kingdom, 28 September 2022, /African Media Agency/- FSD Ethiopia is coordinating a delegation from Ethiopia to attend AFSIC 2023 and will be sponsoring the Ethiopian Investment Summit scheduled for Monday, 9th October 2023. FSD Ethiopia is a development agency that aims to support the development of accessible, inclusive, and sustainable financial markets for economic growth with a vision to contribute to a thriving financial system that delivers real value to the broader economy and to the people of Ethiopia.
The Ethiopian delegation includes the key financial sector actors, including the Ministry of Finance, Ethiopian Capital Market Authority, Ethiopian Investment Holdings, Ethiopian Securities Exchange, and Ethiopian Investment Commission– a truly comprehensive grouping and an exciting agenda item to look forward to.
The Ethiopian summit is organized under the theme "Ethiopia – The New Frontier Market, Opening Doors and Creating Opportunities". The summit aims to provide a comprehensive overview of Ethiopia's emerging opportunities and highlight Ethiopia's recent economic reforms, favorable investment climate, and growing investment opportunities. The high-level officials in the panel will discuss significant developments strengthening Ethiopia's financial architecture. The event will feature a road show to raise capital for the recently established Ethiopian Securities Exchange (ESX). ESX will highlight opportunities for forming strategic partnerships with financial actors in Africa and beyond. Ethiopia investment holding aims to attract investors and inform global finance practitioners of Ethiopia's capital market and opportunities.
The Ministry of Finance will promote its far-reaching reforms to mobilize resources for sustainable and inclusive development, key to Ethiopia's Homegrown Economic Reform agenda. Ethiopian Investment Commission will exhibit the various investment opportunities and a favorable business environment within the country, accomplished through a comprehensive and strategic approach that highlights the unique advantages of investing in Ethiopia.
The Ethiopian Investment Summit will be held on October 9th from 12:45 p.m. to 2 p.m. The Ethiopian Securities Exchange will launch its roadshow during the Embassy reception at the Ethiopian Embassy in London on the same evening.
The Ethiopian country delegation to AFSIC 2023 is a unique gathering of key financial sector players. and the Ethiopian Investment Summit promises to be standing room only. Any interested investors who wish to find out more should ensure they register to attend AFSIC event@afsic.net www.afsic.net
Distributed by African Media Agency in partnership with AFSIC- Investing in Africa
About the Ethiopian Delegation
Ministry of Finance (MoF)
The Ministry of Finance is a Ministry within the Government of Ethiopia responsible fiscal policy, public finance, and external economic cooperation. As per Article 16 of the Proclamation No.1097/2018 Definition of Powers and Duties of the Executive Organs of the Federal Democratic Republic of Ethiopia Proclamation, the Ministry of Finance is given the powers and duties (among others) to formulate economic cooperation and fiscal policies that particularly serve as a basis for taxes, and duties, mobilize, negotiate, and sign foreign development assistance and loans, establish a favorable legislative framework to promote and facilitate the implementation of PPP-financed infrastructure projects by enhancing transparency, fairness, and long-term sustainability, and prepare the Federal Government fiscal budget.
Ethiopian Capital Market Authority (ECMA)
The Ethiopian Capital Market Authority (ECMA) is a federal government regulatory authority with its own juridical personality, accountable to the Prime Minister of the Federal Democratic Republic of Ethiopia. It was established in 2021 by the Capital Markets Establishment Proclamation, which provides the legal foundation for the development of capital markets in Ethiopia. The ECMA is responsible for regulating the Ethiopian capital markets.
Ethiopian Investment Holdings (EIH)
Ethiopian Investment Holdings (EIH) is a young and dynamic holding company with a mission to create long-term value for Ethiopia. It was established in December 2021 to serve as the strategic investment arm of the Government of Ethiopia and to execute the state's ownership of commercial assets. It upholds a philosophy of long-term value creation and is committed to transforming Ethiopia's resources into assets that generate wealth for current and future generations.
Ethiopian Securities Exchange (ESX) Project Office
The Ethiopian Securities Exchange ("ESX") is Ethiopia's first, and only organized securities exchange. ESX is established as a public-private partnership in line with Article 31 of the Capital Market Proclamation (No.1248/2021) and is licensed by the Ethiopian Capital Market Authority (ECMA).
ESX operates the business of a securities exchange, functions as a Self-Regulatory Organization ("SRO"), and serves as the central market organizer providing an integrated product suite covering the equities, money markets, and fixed income, segments of the capital markets.
As the pioneer securities exchange, ESX aims to play a critical role in the development and growth of the Ethiopian capital market. ESX's core objective is to facilitate access to capital and support effective capital allocation in a manner that supports Ethiopia's economic growth. By developing a well-regulated and efficient capital market ecosystem, ESX will enable the mobilization of financial resources for the Government, and private sector institutions while providing investors a reliable platform to invest in a reliable and efficient environment.
Ethiopian Investment Commission (EIC)
The Ethiopian Investment Commission (EIC) is a government institution established in 1992 to promote private investment, primarily foreign direct investment (FDI). The EIC is an autonomous institution accountable to the country's Investment Board, which is chaired by the Prime Minister.
The EIC is committed to creating a conducive environment for investment in Ethiopia. It is working to improve the investment climate, streamline the investment process, and provide better services to investors. The EIC is also working to attract new investors and to expand investment into new sectors.
FSD Ethiopia
FSD Ethiopia is a development agency that aims to support the development of accessible, inclusive, and sustainable financial markets for economic growth.
Established in 2021, FSD Ethiopia works on identifying the underlying factors that contribute to financial system failures, enabling market participants to address these constraints and help build a functional and effective financial sector that contributes to economic growth.
FSD Ethiopia provides technical assistance, grants, and research insights to policymakers, regulators, and market actors to drive large-scale change in financial markets and support sustainable economic development. It works with public, private, and development partners in the financial sector to address critical system constraints to facilitate change that allows the provision of effective, transparent, stable, and inclusive financial systems. It provides tailored services to help diverse stakeholders achieve their goals and design interventions to make Ethiopia's financial sector function effectively and inclusively.
About AFSIC
AFSIC – Investing in Africa has become perhaps Africa's most important annual investment event. The event is owned by Africa Events Limited. AFSIC is wholly focused on accelerating Africa's economic emergence by matching investment opportunities in Africa transforming Africa's business, trade and investment environment, growing Africa's economy, reducing poverty, and increasing African incomes in all business sectors at a continental scale across all 54 countries in Africa.
African Investments Limited (www.africaninvestments.co), a sister company to Africa Events Limited, operates two multi award-winning digital platforms, the AFSIC African Investments Dashboard which matches investment opportunities to our global network of institutional investors and the Africa Business Opportunities Dashboard, which matches business, trade and investment opportunities across Africa covering all business products, sectors, countries in Africa and multiple business objectives. The digital platforms won the global 2022 Salesforce Partner Innovation Award for Financial Services.
Resources:
Media contact:
Olivia Attenborough olivia@africaninvestments.co
Source : African Media Agency (AMA)