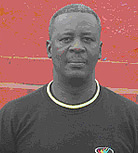 The Liberia Basketball Federation (LBF) says all is now set for the kickoff of its 2010 championship league.
According to the Secretary General of LBF, Fred Pratt (Pictured), the tentative date for the commencement of the league is this Friday. The open-air sports commission on Broad Street, down town Monrovia is the venue for the league.
The league, which suffered several postponements prior to its expected commencement on Friday, is expected to feature several teams from the Monrovia area, including double champs, NPA deadly Pythons, K-Deltas, Cardinals, Island calves, among others.
Heats will meet Harbel Pointers in game one, while game two will see Bardnersville Celtics vs. FUBBA.  The dwell of the day is expected to bring Dream Team II, as they come face to face with NPA Deadly Pythons.
Speaking to this paper Tuesday, the chief scribe of the Liberia Basketball Federation, Mr. Fred Pratt said the postpondments were due to  the January 29 workshop  rescheduled for this Saturday, as well as an executive meeting seeking for the completion of some secretarial works.
He disclosed that 48 teams have registered, including 11 first division, 13 second division 11female and 13 third division teams.
Concluding, Mr. Pratt  noted that  the LBF has added additional four lights to the previous five, making it nine for fans and supporters to be comfortable.