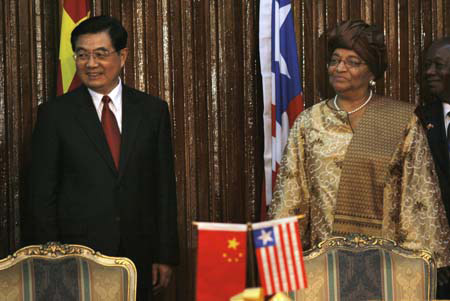 The government of Liberia and the People's Republic of China on Thursday concluded the signing of several million dollar agreements.
Flashback: China's President Hu Jintao (L) meets Liberia's President Ellen Johnson-Sirleaf in Liberia's capital Monrovia February 1, 2007.
Economic and Technical Cooperation, Letters-zero Tariff Treatment of commodities originated from Liberia to China, Technical Cooperation with LBS, Medical materials for Tappita Hospital and the Malaria Prevention Program in Liberia, were among the agreements signed between the two countries.
The signing ceremony was held at the Ministry of Foreign Affairs where a high-power Chinese delegation which arrived earlier in the country for the occasion, was present.
The Chinese delegation was headed by the Vice-Minister of Commerce of the People's Republic of China, Fu Ziying. The delegation comprises 14 government officials, 23 business executives and five journalists.
The Liberian side was headed by Foreign Minister Olubanke King-Akerele, and was comprised of 6 other ministers and 7 legislators. During the signing ceremony, the Liberian foreign minister expressed gratefulness to the Chinese delegation for the numerous supports that republic has given to Liberia since the end of the civil war here.
The Vice-Minister of Commerce of the People's Republic of China thanked the Liberian government and people for the warmed welcome they received on arrival at the Roberts International Airport.
"We will do all we can in our capacity to help the people of Liberia. To date, through the smooth cooperation between Liberia and China, my country has invested 9.9 billion dollars in your economy." Fu Ziying said.