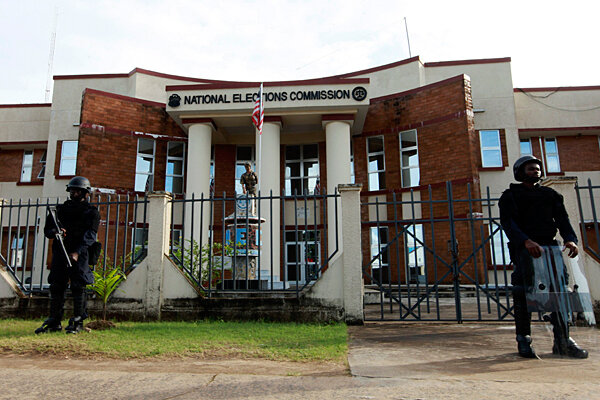 The National Elections Commission (NEC) has submitted a flash drive that it says contains used ballots and sample ballots (Know Your Candidate Posters) to the Hearing Officer at the ongoing elections fraud and irregularities hearing at the NEC based on a request by ruling Unity Party (UP).
---
NEC Executive Director Lami Lighe who took the stands while making the presentation took the time to explain the serial number issue which has been one of the major contentions raised by the aggrieved political parties crying foul.
Lighe said each ballot paper has a serial number which is attached to the ballot stock, so once the ballot paper is detached from the ballot booklet, the serial number remains on the stock to protect the voters' secrecy as require by the constitution.
He argues that this is a universal best practice because if the serial number remains on the detachable part of the ballot the presiding officer would know the serial number if he or she issues a ballot paper. He further says if counting is being done, the officer can identify that ballot paper and know who that person voted for, in contravention of the constitution.
UP lawyers Cllr. Varney Sherman and Cllr. Benedict Sannoh requested the NEC to bring forth documents that include used ballots, know your candidate posters and flash drive containing the voters' roll that was given to political parties sometimes in September this year as part of a litany of requests.
The initial complaint of irregularity was filed by opposition Liberty Party (LP) in challenge to the outcome of the 10 October polls that designates the UP and opposition Coalition for Democratic Change (CDC) for a runoff election stalled by the ongoing case.
The Liberty in its complaint to the NEC alleged that there were fraud and irregularities in the October elections, and the LP claims are being backed by UP and other parties. During argument before the NEC Hearing Officer, Cllr. Sherman, a UP Senator for Grand Cape Mount County, made a request for the electoral house to bring forth sample of used ballots for both presidential and representatives candidates, and the flash drive containing the voters' roll that was given to political parties in September by the NEC.
Meanwhile, following the submission, Cllr. Sherman has requested the Hearing Officer for extra two hours to review the flash drive given to them by the NEC to determine whether it contain the same content that were previous drive given to the parties in September.
After the two hours break the UP put up a witness but later asked for continuance, though the presiding officer was hesitant, but granted the UP request and insisted that it ensures that all its witnesses be exhausted at the next hearing.
By Lewis S. Teh–Edited by Winston W. Parley