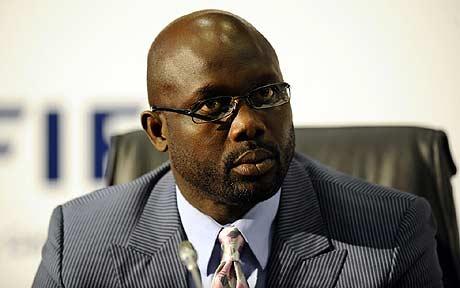 Coalition for Democratic Change Standard Bearer, Senator George Manneh Weah is waging a stinking attack against Vice President Joseph Nyumah Boakai, current Standard Bearer of the governing Unity Party, describing him as a big 'liar', noting that VP Boakai's bid for the Presidency is based on pure deception.
---
Sen. Weah, whose Congress for Democratic Change (CDC) party has lost the presidency twice to the governing UP in the past two elections, used his weekend's visit to Gbarpolu and Grand Bassa Counties to dig into the closet of the ruling party Standard Bearer, noting that VP Boakai has spent 42 years in public service, but Liberians could point to nothing tangible as his achievements in the country.
He says Vice President Boakai lacks moral grounds to seek the Liberian Presidency, alleging that Boakai served as 'rebel general' in the defunct Lofa Defense Force during the civil crisis here, as well as linking him to an alleged US$2 million corruption in slain President Samuel Doe regime which he says, led to his dismissal.
It is not certain whether this is the message that his audiences in the two counties had expected, but Weah reinforces his firing power by telling citizens that the ruling party flag bearer has no role to play in Liberia's future, adding that the change the country so badly needs to make progress is a responsibility that rests upon the shoulders of citizens, urging them to take their destiny into their own hands.
At the Fairground or sports pitch in Buchanan, Grand Bassa County, Sen. Weah cautions Liberians not to support "continuity", indirectly referring to Boakai's presidential bid as a continuity of the Sirleaf administration under whose tenure he (Boakai) has served as Vice President for two six-year terms.
He promises the people of Grand Bassa that immediately after a Coalition victory at the polls on October 10th, Liberia will experience the change it has long been yearning for.
According to him, the Vice President has engaged himself into businesses that ordinary Liberians should be doing, claiming that the one of the reasons for the increment in the price of a 25Kg bag of parboil rice is because Boakai is involved in the rice business besides operating a club.
Partisans and well-wishers lined up the streets of Buchanan City to receive the Coalition Standard Bearer, some carrying cassava leaves, palm branches and placards, waving to Weah's convoy as it arrives in the coastal capital over the weekend, ahead of the official start of campaign here next week.
By E. J. Nathaniel Daygbor-Editing by Jonathan Browne