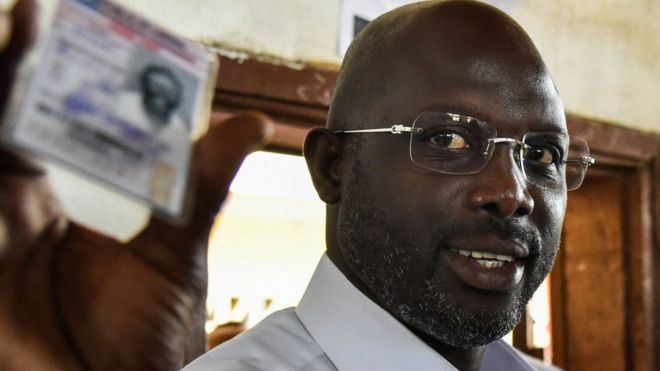 Provisional elections results being announced by the National Elections Commission (NEC) have so far put opposition Coalition for Democratic Change (CDC) presidential candidate Sen. George Weah ahead of main contender, ruling Unity Party (UP's) Vice President Joseph Nyumah Boakai in 13 of the 15 counties here.
---
But with more provisional results still expected from the NEC through this week, it seems far too early to assume who wins the presidential polls.
Though the polls are contested by 20 presidential candidates, at least two other opposition parties including candidate Charles Brumskine's Liberty Party (LP) ex-Coca – Cola executive Alexander Cummings's Alternative National Congress (ANC) are slightly considered in parts of the necessary figures emerging so far from the provisional results announced by the Commission.
The provisional results come as Liberty Party demands that NEC halts the announcement of provisional results due to irregularities on voting day.
All Liberian Party candidate Benoni Urey also told reuters that "Every possible electoral fraud has been committed by the Unity Party.
Urey and the Movement for Democracy and Reconstruction, represented by former rebel leader Prince Johnson, told Reuters that extra ballots were printed in advance and marked with votes for Boakai.
However, NEC chairman Cllr. Jerome George Korkoya read the Commission's provisional statistics regarding the presidential polls on Thursday, 12 October at a press conference in Monrovia quoting only results that were in high figures referring other candidates to the website.
The provisional results show CDC topping the governing UP in 13 of the 15 counties here, while the ruling party shows its strength in Lofa County, the home of Vice President Boakai.
Chairman Korkoya says the statistics constitute 40 percent of the total votes cast and that the results are provisional. The Montserrado County Senator is in a comfortable lead in Montserrado, Grand Bassa, Grand Cape Mount, Gbarpolu, Bomi, and Bong Counties.
Other counties that the CDC is leading include Rivercess, River Gee, Sinoe, Grand Kru, Grand Gedeh, Maryland, and Margibi Counties.
Chairman Korkoya adds that the provisional results should not be considered as final results, saying no political party or individual is clothed with the authority to announce elections results.
The law gives the NEC the authority to declare winner for all elections for elective public offices.
"The National Elections Commission (NEC) says it has not announced any winners from the Tuesday October 10 elections. However, the commission will begin the announcement of provisional results today at its media center in Monrovia at 5 pm daily," the NEC says.
The Commission reiterates that it has not announced any results nor has it declared any winners from the Tuesday elections.
It also warns against individuals declaring verdict on the elections, saying "only the commission has the legal right to announce the results.
But Korkoya declined reading the entire result of the 20 presidential candidates and the candidates of the House of Representatives.
By E. J. Nathaniel Daygbor–Edited by Winston W. Parley