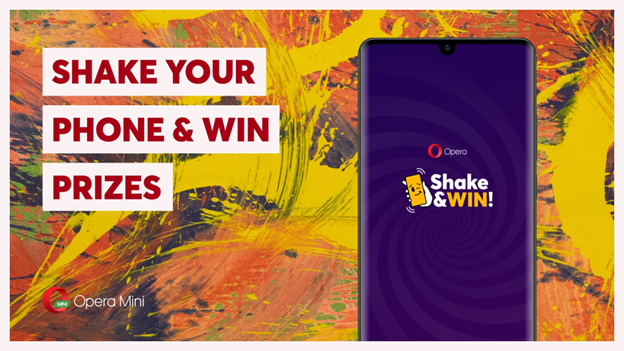 OSLO, Norway, 13 June 2023 -/African Media Agency(AMA)/- Opera – the company behind the popular data-saving Opera Mini browser, which has 100 million users across Africa – is back with a new edition of its renowned "Shake and Win" campaign. Getting underway in Kenya, Nigeria, and South Africa on the 13th of June, the campaign will run for 4 weeks and feature over 130,000 prizes, including cash vouchers, data bundles, and phones – all users have to do is shake their phones and win!
Opera has always been sensitive to the needs of its users across Africa, and has responded with features, campaigns, and solutions that cater to locals. Shake and Win is yet another example of Opera's efforts tap into what its users are passionate about. People love to compete and have some fun – and moreover, to win prizes – and "Shake and Win" is offering tens of millions Opera users the chance to win items like free data bundles, airtime vouchers, or even brand-new smartphones.
Opera launched its last "Shake and Win" campaign in Africa in November of this past year. Dedicated to the 2022 World Cup, Opera fans had the chance to get in on the excitement by winning big. Users responded with tremendous enthusiasm, as over 13 million participants shook their phones at least 1 million times a day.
The initiative was so successful that Opera Mini – which, thanks to its unique data-compression technology, is faster and lighter than any competing mobile browser – reached number one in the Google Play Store in both Kenya and Nigeria. The demand from users was so high and the feedback so positive that Opera has decided to do it again this June and July.
Starting the 13th of June, users can access the Shake and Win campaign page from Opera Mini via the floating button on the start page. From there, users are invited to shake their phones for a chance to win either a puzzle piece to win one of the major prizes or an immediate prize. To win one of the major prizes such as a brand-new phone or the equivalent of up to 200,000 Nigerian naira in cash, users must collect six individual puzzle pieces to complete their prize puzzle.
Opera Mini is a lightweight and speedy mobile browser that helps users save up to 90% data with features like Data Compression. Not only that, but Opera users are additionally afforded free data just for making Opera Mini their main browser. Opera Mini also supports offline file sharing and has a built-in ad blocker, making it a secure, flexible, and fast option for users seeking to save as much data as possible. And for football fans Opera Mini additionally has an integrated Live Scores feature that allows users follow the action from all their favorite teams and leagues.
Everyone loves to win, and so that's why Opera is back again with "Shake and Win." To win great prizes, get your phones out, go to Opera Mini and start shaking!
Distributed by African Media Agency (AMA) on behalf of Opera.
About Opera
Opera is a global web innovator with an engaged and growing base of hundreds of millions of monthly active users who seek a better internet experience. Building on over 25 years of innovation that started with browser products, Opera is now leveraging its brand and highly engaged user base in order to expand its business into new segments. Today, Opera offers users around the world a range of products and services that include PC and mobile browsers, the newsreader Opera News, and apps dedicated to gaming, e-commerce, and classifieds. Opera is headquartered in Oslo, Norway, and listed on the NASDAQ stock exchange (OPRA).
About Opera Mini
Launched in 2006, Opera Mini is a small, fast, and powerful browser. It comes with unique features such as Data Compression, Offline File Sharing, and a built-in ad-blocker. Today, Opera Mini is used by more than 100 million people who chose it over the pre-installed browsers on Android mobile devices. Opera Mini has a 4.4 star rating on Google Play and has been reviewed by more than eight million people worldwide.
Source : African Media Agency (AMA)