AMA
Last call to win from over 100,000 prizes with Opera's latest "Shake and Win"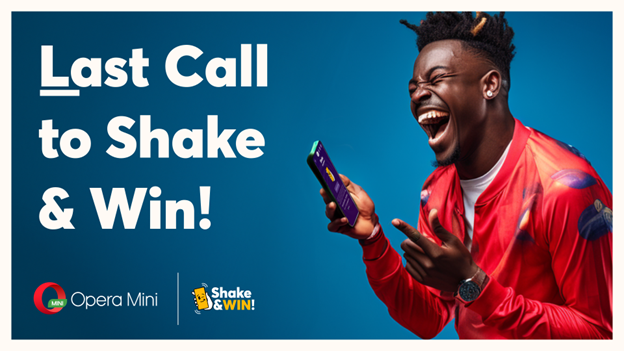 OSLO, Norway, 15 November, 2023 -/African Media Agency(AMA)/- The clock is ticking! Opera launched its latest edition of "Shake and Win" on November 1st, and there are just two weeks left for Opera Mini users in Kenya, Nigeria, and South Africa to get in on the action. So this is your last call – dive in and grab your share of a pool of 100,000 prizes, including cash vouchers, data bundles, and phones. The more you browse, the greater your odds of winning!
To participate, simply open Opera Mini and locate the floating "Shake and Win" button on the start page – then get ready to shake your phone for the chance to win! Time is running out to win instant rewards – like cash vouchers or data bundles – or claim a puzzle piece. Collect six pieces and complete the puzzle in order to take home a major prize, like a brand new phone or up to $200 in USD.
With the football season in full swing, Opera Mini is bringing the spirit of winning not only to the football pitch, but also to the world of web browsing. Opera Mini users can now stay on top of all the action with an integrated Live Scores feature, featuring a Match List page with in-depth statistics and commentary. Live Match Alerts mean you can stay on top of all the action from around the globe, including your favorite teams and leagues.
Opera Mini is such a popular choice for millions because of its unique Data Compression technology, which helps users save up to 90% of their data as they browse. In addition, simply by using Opera Mini as your main browser, you'll also receive up to 1.5GB of free data each month. Opera Mini is packed with additional features, such as offline file sharing and a built-in ad blocker, which add up to a secure, flexible, and speedy browsing experience.
So don't wait a second longer – grab your phone, open Opera Mini, and get shaking! Fabulous prizes are there for the taking, and there are only two weeks left – get in on the action and don't miss out.
Distributed by African Media Agency (AMA) on behalf of Opera.
About Opera Mini
Launched in 2006, Opera Mini is a small, fast, and powerful browser. It comes with unique features such as Data Compression, Offline File Sharing, and a built-in ad-blocker. Today, Opera Mini has been downloaded over 1 billion times on the Google Play Store by people who chose it over the pre-installed browsers on Android mobile devices. Opera Mini has a 4.4 star rating on Google Play and has been reviewed by more than eight million people worldwide.
Source : African Media Agency (AMA)