UD Trucks marks a decade of recognizing the accomplishments and development of Quester. Debuted in 2013, Quester continues to bring flexibility in transport application, while enabling ultimate dependability through optimal TCO (total cost of ownership) and uptime reliability.
SINGAPORE, 29 August 2023 -/African Media Agency(AMA)/- UD Trucks celebrates the 10th anniversary of the heavy-duty Quester and reflects proudly upon its journey of innovation and expansion. Quester has aimed to embody the company's vision of creating trucks that meet the present-day requirements of the world. Developed with a strong focus on customer needs and leveraging UD Trucks' 87-year history of Japanese engineering expertise, Quester stands as a contemporary, heavy-duty truck tailored to cater to the demands of growing markets and around the world.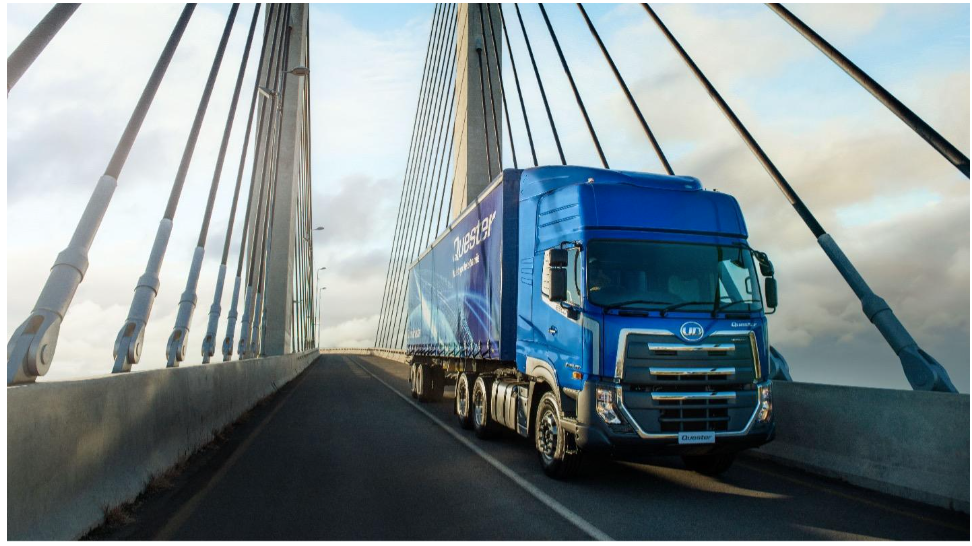 The first Quester began its journey on the road in 2013, first in Thailand. Today, UD Trucks is proud to announce that over the last 10 years, Questers have been on the roads of over 46 countries across 4 continents.
Jacques Michel, Senior Vice President of UD Trucks International Sales, said: "Since the introduction and the continuous innovations we have pioneered with Quester, UD Trucks has always kept the Gemba spirit top of mind. We are committed to stay closely connected to the field and understand the requirements of our customers in different markets. We aim to continue to be their preferred transport solution provider."
Evolution of Quester
In the last decade, Quester has expanded its lineup to feature a range of 13 configurations, showcasing its remarkable versatility for businesses. This encompasses the introduction of a novel 8-liter GH8E engine alongside the initially introduced 11-litre GH11E variant, both engineered for substantial torque output and efficient fuel consumption through low engine speed operation. The available horsepower options span from 250 to 460, and buyers can also choose between a 9-speed or 12-speed gearbox together with single or hub reduction drive axles. Additionally, Quester offers an array of axle configurations, including 4×2, 6×2, 6×4, 8×2 and 8×4, with the first 3 available for both tractor and rigid applications. Quester's high-roof large cab option also offers class-leading space for driver's comfort.
New Quester introduced in 2019 elevates the driving experience
Expanding upon Quester's established durability and dependability, New Quester incorporated notable enhancements like the ESCOT automated manual transmission, more powerful engines, and intuitive telematics. These improvements aimed to provide improved fuel efficiency, productivity, drivability, safety, and uptime.
Fuel costs typically constitute 60 percent of operating costs for fleet operators. New Quester achieved an even greater improvement in fuel efficiency of up to 10 percent compared to the first Quester model by incorporating the ESCOT automated manual transmission, reducing vehicle weight, and optimizing the driveline[1].
The ESCOT automated manual transmission system incorporated specialized software that optimizes gear shifts based on engine revolutions, vehicle speed, load weight, and road gradient. This intelligent system also featured a sensor that automatically selects the most suitable starting gear, rather than defaulting to first gear.
New Quester's advanced fuel efficiency was meant to align with the global call for reducing consumption. The New Quester met the fuel economy and quality requirements for heavy-duty vehicles, ranging from Euro 3 to Euro 4, across all intended markets.
New Quester's automatic selection of the most suitable gear was also meant to make driver training easier and improve drivability. It's easy-to-operate gear lever, which uses a straight shifting pattern, was meant to help companies expand their pool of drivers by making driving more intuitive and easier to pick up.
The New Quester was also intended to elevate the driving experience. Designed to feature an air-suspended cab and a ride comfort package that effectively decreases cab vibrations by as much as 18 percent, driver comfort was further prioritized through the inclusion of ergonomic seats and lumbar support.
Euro 5 compliant Quester embodies value of sustainability
UD Trucks was the pioneering truck manufacturer to introduce Selective Catalytic Reduction (SCR) technology back in 2004.
Continuing its efforts to promote sustainability, the Euro 5 Quester made its debut in 2021 as a heavy-duty truck that would enhance customers' business operations while minimizing the impact on the environment as much as possible.
Euro 5 standards bring forth a reduction of approximately 43% in NOx emissions compared to Euro 4, resulting in substantial decrease in the vehicle's carbon footprint due to cleaner exhaust emissions.
The latest Euro 5 Quester incorporates SCR technology, offering a substantial enhancement in environmental preservation and fuel efficiency. This technology's reliability in effectively reducing NOx emissions is evident when compared to other methods of emission control. The Euro 5 Quester also revolutionized the scene with real-time fuel and driver coaching. This enhancement provided truck operators with immediate and specific feedback on more fuel-efficient driving techniques.
Leveraging technology for a smart future
New Quester and its Euro 5 range further enhanced Quester's existing and impressive standout features.
Since 2018, all trucks come equipped with UD Connected Services, which possess the capacity to establish a direct connection with UD Trucks workshops, enabling real-time monitoring and preemptive identification of each vehicle's status and maintenance requirements prior to potential emergencies. The analysis of preventive maintenance offers customers guidance through monthly reports on driving patterns and fuel usage, leading to improved operational efficiency and enhanced fuel economy in the long run.
Quester also prides itself for unwaveringly staying true to its ethos of "Made to go the extra mile", by increasing uptime through UD Extra Mile Support. Presenting a widespread network of highly skilled service technicians, it has been delivering top-notch aftersales support including service agreements, connected services, genuine parts, service planning, and comprehensive vehicle handover training. These efforts collectively enhance fleet performance across global markets to its utmost potential.
Jacques Michel, Senior Vice President of UD Trucks International Sales, said: "We are proud of the tremendous achievements Quester has accomplished thus far, UD Trucks is aware that customer needs as well as the industry landscape is always dynamic and changing. We will continue to collaborate, innovate and most importantly, keep listening to the needs of our customers to ensure that Quester stays true to its promise to "go the extra mile".
For more information, please visit http://www.udtrucks.com/en-int/home
[1] The extent of improvement depends on factors such as operating conditions, driving habits, and vehicle maintenance.
Distributed by African Media Agency (AMA) on behalf of UD Trucks.
UD Trucks
UD Trucks is a leading Japanese commercial vehicle solutions provider, active in more than 60 countries on all continents. Since its inception in 1935, the company has been an innovation leader with a clear vision to provide the trucks and services the world needs today.
The company is committed to go the extra mile for smart logistics with the most dependable solutions for demanding customers. To best support across applications and geographies, UD Trucks offers a full range of heavy-duty trucks – Quon and Quester, medium duty trucks – Condor and Croner, and light-duty trucks – Kazet and Kuzer, as well as associated operational and financial services.
UD Trucks is a proud member of Isuzu Group.
Source : African Media Agency (AMA)