WASHINGTON, DC, USA, 30 June 2023, /African Media Agency/- More than 1,000 participants, including six African heads of state and government and a delegation of senior U.S. government officials, are expected in Gaborone, Botswana for the U.S.-Africa Business Summit, organized by the Corporate Council on Africa, in partnership with the Presidency of the Republic of Botswana. The Summit, to be held July 11-14, 2023 at the Royal Aria Convention Centre, is the continent's largest annual gathering of U.S. and African leaders and senior government officials, private sector executives, international investors, and multilateral stakeholders.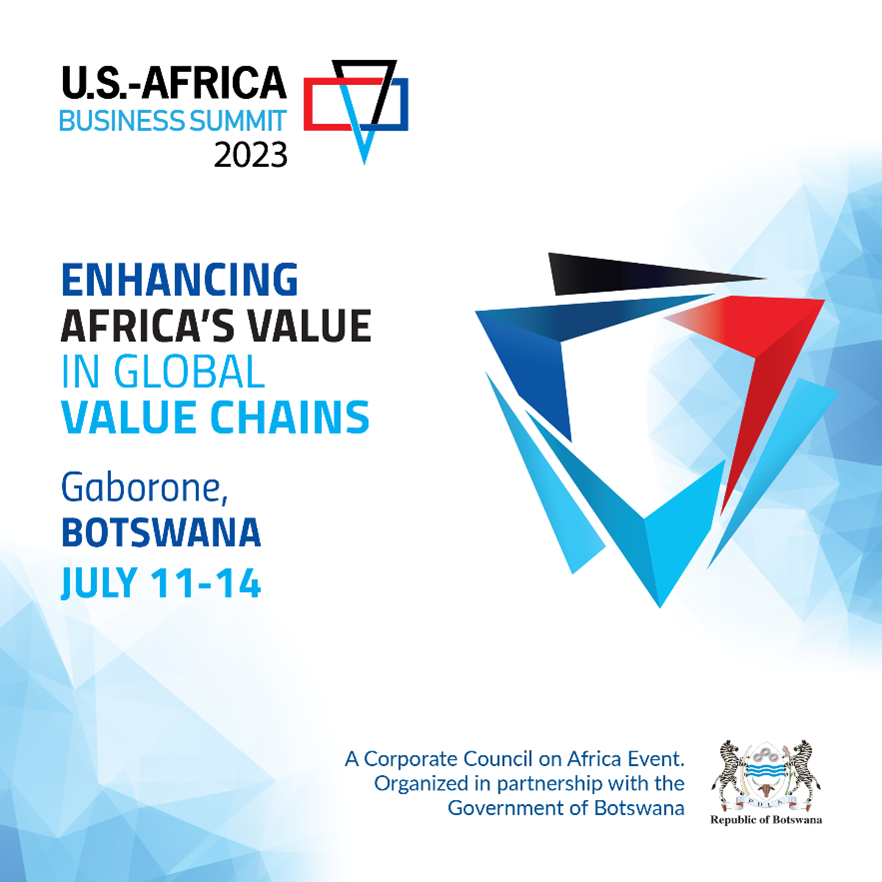 Under the theme "Enhancing Africa's Value in Global Value Chains," the Summit promises an exceptional lineup of 100-plus speakers, among them business and government leaders providing insights on emerging opportunities for U.S.-Africa trade, investment and commercial engagement, and priority action areas for collaboration in key growth sectors of agribusiness, finance, energy, health, infrastructure, ICT and creative industries. The four days offer a premier platform for interacting with high-level government officials and business leaders from countries across the African continent with some of the most promising markets for investments and learning about business opportunities, continental and national policies, and success stories.
The U.S.-Africa Business Summit builds upon the positive momentum created by the U.S.-Africa Leaders Summit and Business Forum held in Washington D.C. in December 2022 during which President Joseph R. Biden announced more than $15 billion in two-way trade and investment commitments, deals, and partnerships. Indeed, the conference in Botswana will provide a progress report and latest developments arising from the Leaders Summit, as well as announcement of new deals and financing by institutional investors, U.S. and African financial institutions and others. Highlights include presidential dialogues, invitation-only roundtables, and closed-door pitch sessions for institutional investors.

"The packed program for this year's U.S.-Africa Business Summit reflects everything we are trying to achieve at Corporate Council on Africa: to be a nexus for business and investment between the United States and the nations of Africa," said Florizelle Liser, CEO of the Corporate Council on Africa. "We have a host country in Botswana that provides a model for African success, multiple African heads of state and government who value the importance of enhancing economic collaboration with the U.S., a U.S. government using an array of programs and tools to fully engage with the continent, and a contingent of American investors ready to deploy capital across multiple sectors."
Confirmed African Heads of Government include:
H.E. Mokgweetsi E.K. Masisi, President of the Republic of Botswana
H.E. Filipe Nyusi, President of Mozambique
H.E. Hage Geingob, President of Namibia
H.E. Haikande Hichilema, President of Zambia
Hon. Samuel Matekane, the Right Honorable Prime Minister of Lesotho
H.E. Cleopas Sipho Dlamini, the Right Honorable Prime Minister of the Kingdom of Eswatini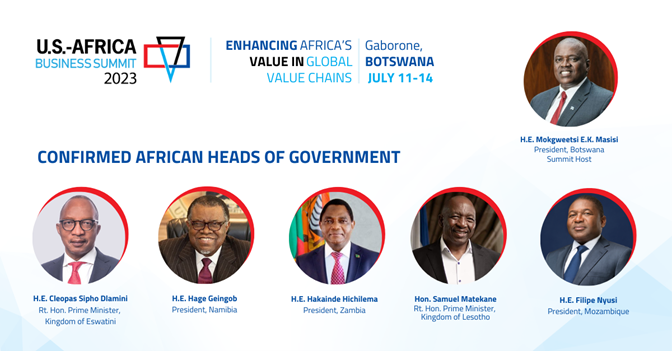 Confirmed United States Delegation include:
Scott Nathan, Chief Executive Officer, U.S. International Development Finance Corporation (DFC)
Enoh Ebong, Director, U.S. Trade and Development Agency (USTDA)
Judd Devermont, Special Assistant to the President and Senior Director for African Affairs, White House National Security Council
Travis Adkins, President and CEO, U.S. African Development Foundation
Johnnie Carson, Special Presidential Representative for U.S.-Africa Leaders Summit Implementation
Peter Hendrick Vrooman, U.S. Ambassador to Mozambique
Distributed byAfrican Media Agencyon behalf of Corporate Council on Africa
For more information about the U.S.-Africa Business Summit, please visit www.usafricabizsummit.com.
For questions about the 2023 U.S.-Africa Business Forum, please email summit@corporatecouncilonafrica.com.
ABOUT CORPORATE COUNCIL ON AFRICA (CCA)
Corporate Council on Africa is the leading U.S. business association focused solely on connecting business interests between the United States and Africa. CCA uniquely represents a broad cross section of member companies from small and medium size businesses to multinationals as well as U.S. and African firms. Learn more at www.corporatecouncilonafrica.com.
Media Contact
Stacey Pompey
spompey@corporatecouncilonafrica.com
Source : African Media Agency (AMA)