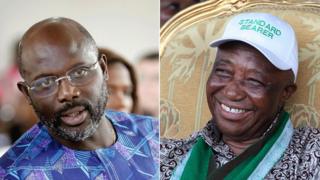 Vice President Joseph Nyumah Boakai, Standard Bearer of the governing Unity Party and Coalition for Democratic Change Standard Bearer George M. Weah disappoint Liberian youth here when they fail to show up and sign a Youth Manifesto as was anticipated, committing themselves to advancement of youth programs.
---
The National Youth Manifesto is a complementary youth development document designed by the Federation of Liberian Youth or FLY in support of the National Youth Act of 2013, which is yet to be enacted into law. The two political leaders, who are going to the runoff presidential poll next Tuesday, November 7, were conspicuously absent without any official representation during Monday's formal launch of the National Youth Manifesto at the Monrovia City Hall in 1st Street, Sinkor Monrovia.
Expressing frustration and disappointment at the launch, the Program Director at the National Youth Movement for Transparent Election or NAYMOTE, Mr. Aaron Weah says it was very unfortunate for people calling themselves political actors, who are seeking the presidency to abandon or ignore youth activities.
"It is very unfortunate for our leaders to stay away from activities of young people, they only come begging us to participate in their rally and others activities, but when it comes to youth program, they will always backslide", he laments. He says the absence of the two presidential candidates should serve as a warning to young people across the country to be very circumspect in who to elect as they go to the poll next week, saying, "We will not continue this path of electing people who don't care about our needs and aspiration as future leaders of this country."
Mr. Weah continues that the National Youth Manifesto should be seen as a commitment by aspirants and political leaders, who will eventually become leaders of Liberia (and are expected) to subscribe to it and will conduct themselves accordingly for the benefit of Liberian youth.
Tension grew in the hall on the absence of the two forerunners to the runoff when Unity Party Vice Chairman for Inter-party Relation and Electoral Affairs, Attorney J. Cole Bangalu, mounted the podium to make remarks.
Several angry members of the Federation of Liberian Youth raised placards with inscription, "We need our leaders, the next President of Liberia to address us, not any representative."  Atty. Bangalu's appearance at the program evokes serious disturbance with the audience demanding the presence of Weah and Boakai instead of any proxy.
But the UP stalwart clarifies that he had appeared in his personal capacity, not on behalf of Vice President Boakai. I am not here to represent the Vice President; myself, I am a student like anyone here, I was passing through and thought to come and witness your launch", Atty. Bangalu explains.
He stresses that the young people deserve better, noting there are things that the young people lack in this country, including quality education, and health care, among others. "I decided to come here to encourage you to continue the hard work." Meanwhile, the President of FLY, Austine S.M. Tamba, says the two political leaders have up to Thursday to sign up to the Youth Manifesto or else, the Federation will issue a strong press statement.
"We are a very peaceful group of young people, we strongly believe that the two candidates will sign up to this manifesto, but if they failed to do so then we will show our next action", Tamba concludes.
By Lewis S. Teh